With a tonne of ESP32-related content coming from Maker Faire Rome, starting this weekend and taking us all the way until Christmas, it would be foolish for ipXchange to not cover CAPUF Embedded's second version of their ESP32 programmer board, which makes flashing these popular devices easy for your custom builds.
CAPUF Embedded's ESP32 Programmer V2 features the same USB-C interface and 8-pin header of the previous version – 3.3 VDC, TXD, RXD, GND, Reset/RTS, Boot/DTR, GND, 5 VDC – but also features an additional header which grants access to DCD, RI, DSR, and CTS signal pins.
What makes this device particularly special is that, according to CAPUF, it is rather difficult to find and/or purchase a similar programmer board that allows you to flash ESP32 devices once they are on your custom-made board. With CAPUF's solution, all you need to do is have a matching pin set that interfaces with your ESP32 device, plug in the programmer board via the 8-pin header – a header is supplied unsoldered – and program your project via the USB-C connector.
Here's a diagram from CAPUF's website, which shows how simple the interface can be in practice: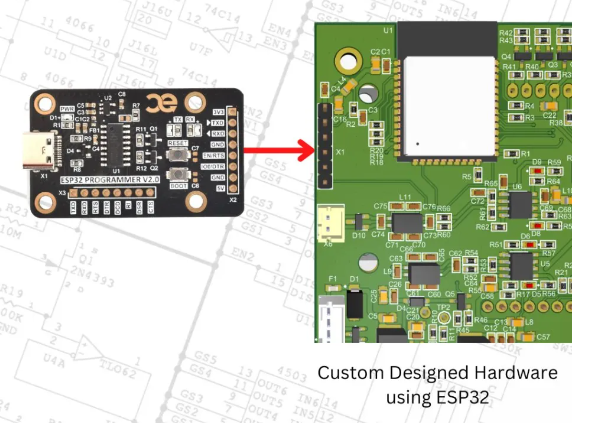 We've not even highlighted that this board offers 3.3-V and 5-V interfaces – meaning that it can actually be used with more MCUs than simply the ESP32 devices – or any of the security benefits, so learn more on the board by following the link below, and fill out the form if you want ipXchange to hook you up with samples.
Fun fact: CAPUF Embedded was our first official partner, and they have some GREAT innovations on the horizon, so stay tuned.
Keep designing!
(Image sourced from CAPUF Embedded)