Back at Embedded World 2023, ipXchange chatted with Ken Yu, CEO of RAKwireless, about their latest product at the time, the RAK11720. Now, nearly 5 months later, let's look at what made this such a great product to launch. Here's this week's ePoster!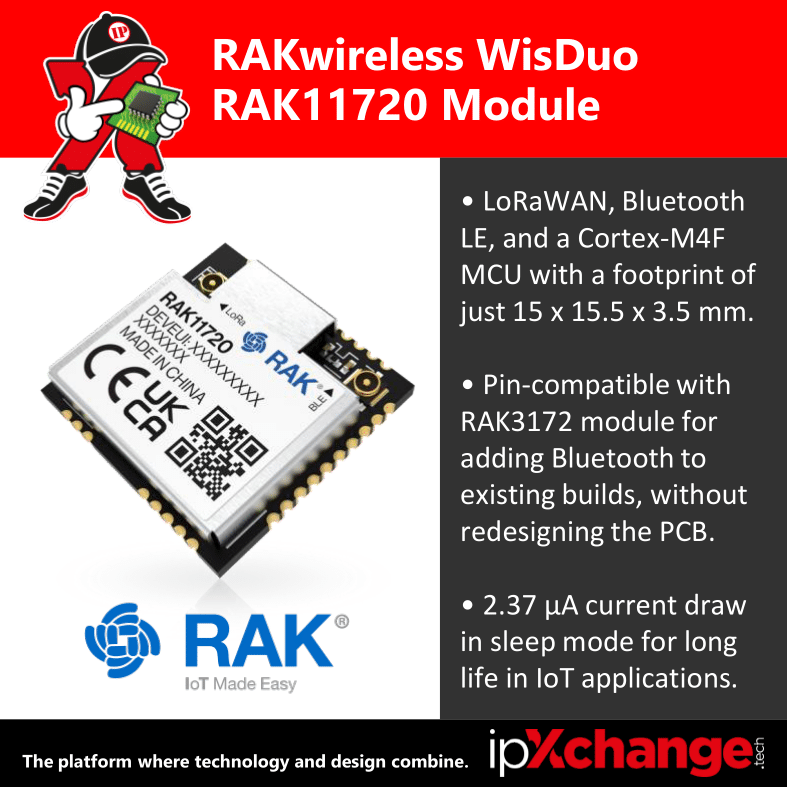 For starters, the RAK11720 allows engineers to easily add Bluetooth functionality to already existing builds that use the popular RAK3172 LoRaWAN module. Since Bluetooth is a protocol that is used by (arguably) many more IoT devices, this expansion in capability can make LoRa builds far more accessible to the general market, particularly in order to facilitate phone- or tablet-based user interfaces for smart home/building IoT networks intended for monitoring by homeowners and building managers.
Another great thing about the RAK11720 for new builds is that it contains a lot more memory than the RAK3172 – 1 MB flash + 348 kB SRAM vs 256 kB flash + 64 kB RAM respectively – meaning that there is a lot more room for coding more complex designs when using this device as the heart of your build; we at ipXchange are sure that extra space won't all be used up by the Bluetooth protocols.
Learn more about the RAK11720 by following the link to the board page below, where you can also apply to evaluate the technology for use in a commercial project.
Keep designing!