Würth Elektronik produces a great many evaluation/development boards for their sensor and wireless modules, so here's an ePoster on another of their FeatherWing boards. This one uses the Thyone-I 2.4 GHz wireless module, a great fit for battery-powered IoT devices that operate as part of a mesh network, though point-to-point is still supported.
As indicated on this ePoster for the FeatherWing board, rather than the module itself, the Thyone-I is tiny – smaller than a nano SIM card – but while this board makes use of the Thyone-I's on-module antenna, the device also supports smart antenna configuration, meaning that its range can be extended to 750 m using an external antenna. In this long-range mode, the data rate is reduced to 125 kbit/s from the standard 400 kbit/s during regular operation.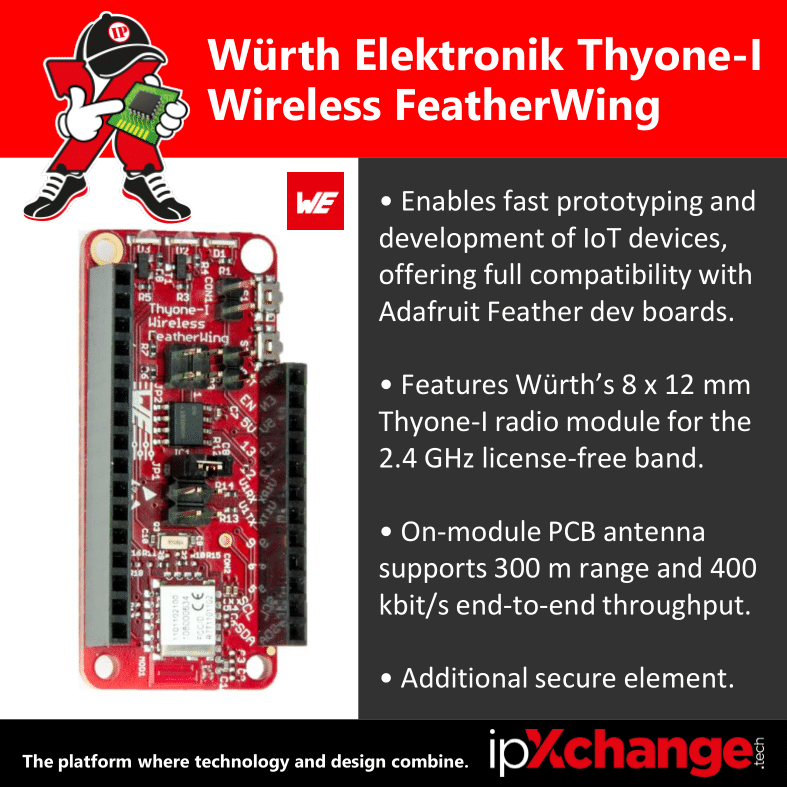 Along with various other operating modes to support your application, the Thyone-I also features a UART interface at up to 1 Mbit/s and 6 local and remote GPIOs that can be configured to be controlled via the serial or radio interface. As with any Würth product, their team offers stock guarantee for ongoing projects and are always ready to help with integrating their devices into your design, with tech support in over 50 countries worldwide. That's great to know as the Thyone-I also supports global operation thanks to that license-free 2.4 GHz band!
Learn more by following the link to the board page, where you can apply for a board if you've got a commercial application where you want to test the Thyone-I.
Keep designing!