Atmosic's ATM33e devices are a series of extremely low-power Bluetooth SoCs with in-built energy harvesting to support the move towards batteryless devices in applications such as industrial IoT sensors, remote monitors, health monitors, wearables, advanced home automation, human interface devices, entertainment, gaming, and tracking devices. The device's Bluetooth LE 5.3 supports 2 Mbps, 1 Mbps, 500 kbps, and 125 kbps PHY rates, and Bluetooth angle-of-arrival and angle-of-departure direction finding.
As well as a 64 MHz ARM® Cortex® M33F MCU – with DSP, and supported by 64 kB ROM, 128 kB RAM, and 512 kB NVM – the ATM33e features on-chip RF energy harvesting, with a dedicated antenna input. It also supports photovoltaic, thermal, motion, and other energy harvesting technologies. External energy is harvested by the SoC and can be directly used to supply the end device. Excess energy will then be delivered to a storage component, ensuring the most efficient use of harvested energy and extending storage component life.
The device accepts 1.1 V to 4.2 V battery input voltage, and typical power consumption of the ATM33e SoCs using a 3 V battery is as follows.
Radio power consumption:
-> Rx @ -95 dBm: 0.85 mA
-> Tx @ 0 dBm: 2.1 mA
SoC power consumption, with power management unit:
-> Retention @ 32kB RAM: 1.6 µA
-> Hibernate: 1.1 µA
-> SoC Off: 400 nA
-> SoC Off with harvesting enabled: 700 nA


The SoC is structured as per the diagram below: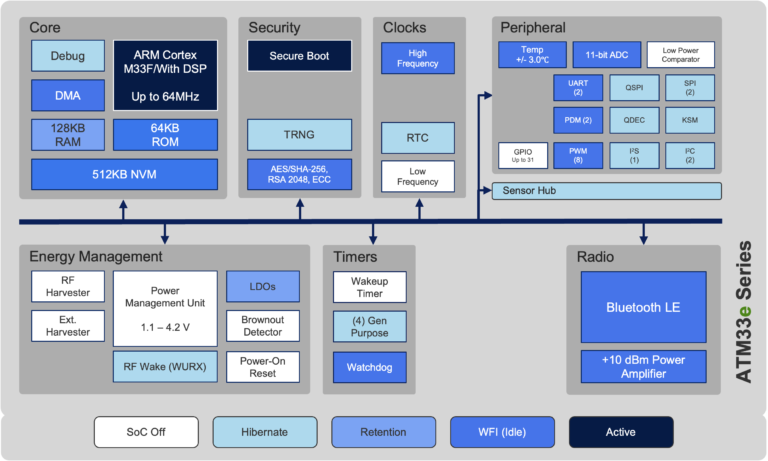 To further aid in lowering the power consumption of device, Atmosic employs innovative wake-up systems that enable unused parts of the device to remain in deep sleep if they are not required for a given operation. For example, for a threshold-based notification, the sensor hub can directly trigger the radio module without waking up the MCU. If additional computation is required for a time-critical situation, the MCU can also be woken up to evaluate the data. This is particularly useful in patient-monitoring applications.
To ensure the security of your connected device, the ATM33e SoCs feature ARM® TrustZone®, encryption/cryptographic hardware accelerators, and a true random number generator.
Atmosic's ATM33e devices contain a wealth of interfaces and are available in a 7 x 7 mm, 56-pin QFN package with up to 31 GPIOs, or a 5 x 5 mm, 40-pin QFN package with up to 15 GPIOs.
The ATMEVK-3330e is the main evaluation kit for the ATM3330e SoC. This kit enables engineers to evaluate the energy-harvesting and Bluetooth performance of the ATM3330e device, as well as measuring the current consumption in different operating states. The kit includes the ATM3330e evaluation board, a USB cable (type-A to USB micro), a 2.4 GHz antenna, a 900 MHz antenna, a Panasonic PV cell, and a CR2032 coin-cell battery.
If you have a commercial application that requires Bluetooth and you want to go batteryless, fill out the form below, and ipXchange will facilitate conversation with Atmosic to get you started evaluating their technology. You can also use this form for enquiries regarding a non-energy-harvesting version of the device.