TouchNetix's aXiom touchscreen technology completely solves the typical issues faced by capacitive touchscreens – such as poor performance when wet or when using gloved hands – with >100x the sensitivity of competing technology and by integrating force-sensing capabilities and haptics. This HMI is powered by TouchNetix's aXiom range of ICs, which were specially designed to address the needs of industrial and automotive applications.
Unlike standard capacitive touchscreen technology, aXiom touchscreens can additionally sense multi-touch, multi-pressure interactions – down to 10 g – with a pressure spatial resolution of around 1.5 cm between the points of contact. This sensing comes with an additional sensor array as part of the screen, offering safety-enhancing systemic redundancy where capacitive technology suffers.
aXiom technology also features touchless operation of screens with an operating range from within 5-6 cm of the surface of the device. The aXiom IC is able to automatically discriminate between hovering and touching, enabling a vastly extended usability even with gloved hands. Presently, aXiom supports four touchless gestures, 'airDwell', 'airFlick', 'airTap', and 'airSpin', which correspond to a time-based hover to click, motion-based swipe (finger or full hand), proximity-based tap without contact, and circular-motion-based finger gesture respectively.
TouchNetix offers evaluation kits and demo boxes in a range of sizes and aspect ratios that allow you to fully test standard and custom touchscreen solutions for your application. The board-based kits have headers for probes and analysis and offer a serial interface for connecting to your host system. TouchNetix also provides a USB bridge board for connection to a PC. Alternatively, the demo boxes provide a ready-to-go testing environment. An example of one of the test boards is shown below, but TouchNetix will provide more details on specific boards and screen options should you be interested in evaluating their technology.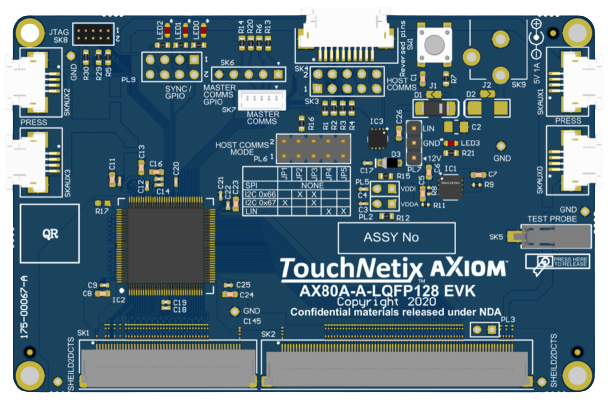 (All images sourced from TouchNetix)