Acme Systems' H10 presents a disruptive combination of energy harvesting technology and an extremely low-power LoRa radio module for creating battery-free solar-powered IoT sensor nodes. This castellated 48-pad board features a compact form factor of just 40 x 27 x 2.5 mm, making it suitable for direct integration into compact builds in a wide variety of applications within an operational temperature range of -25°C to +70°C.
The key performance specification of the H10 module is the low power consumption:
Standby mode: 1.3 µA @ 3.3 V (4.29 µW)
Transmit mode: 20 mA @ 3.3 V (66 mW)
The H10 module supports ambient energy harvesting using a solar panel and directs this energy for storage in a compact hybrid supercapacitor, with full charge achieved after just 15 minutes of outdoor light exposure. Acme Systems' original power circuitry enables charging in low-light environments at less than 50 lux, meaning power loss to the system is very rare in non-enclosed deployments. Performance optimisation within the operating system enables the H10 module to operate for weeks in reduced or no-light conditions by automatically reducing the number of messages transmitted per hour. The hardware power management circuitry also supports automatic detachment of charge and load to protect the system.
Running the C-based open-source RIOT operating system for IoT devices, the heart of the H10 modules is a Microchip SAM R35 LoRa sub-GHz SiP that features an Arm Cortex-M0+ core running at up to 48 MHz, supported by your choice of 64 kB, 128 kB or 256 kB of flash memory and 40 kB of SRAM, with an optional 2 kB or 8 kB of zero-power ferroelectric RAM. Other options include:
Microchip ATECC608B crypto chip
Humidity and temperature sensor
Metallic shield
I-PEX micro RF coaxial antenna connector
The module also features three available Flexcom ports for communication with external devices through I2C, serial, or SPI interfaces.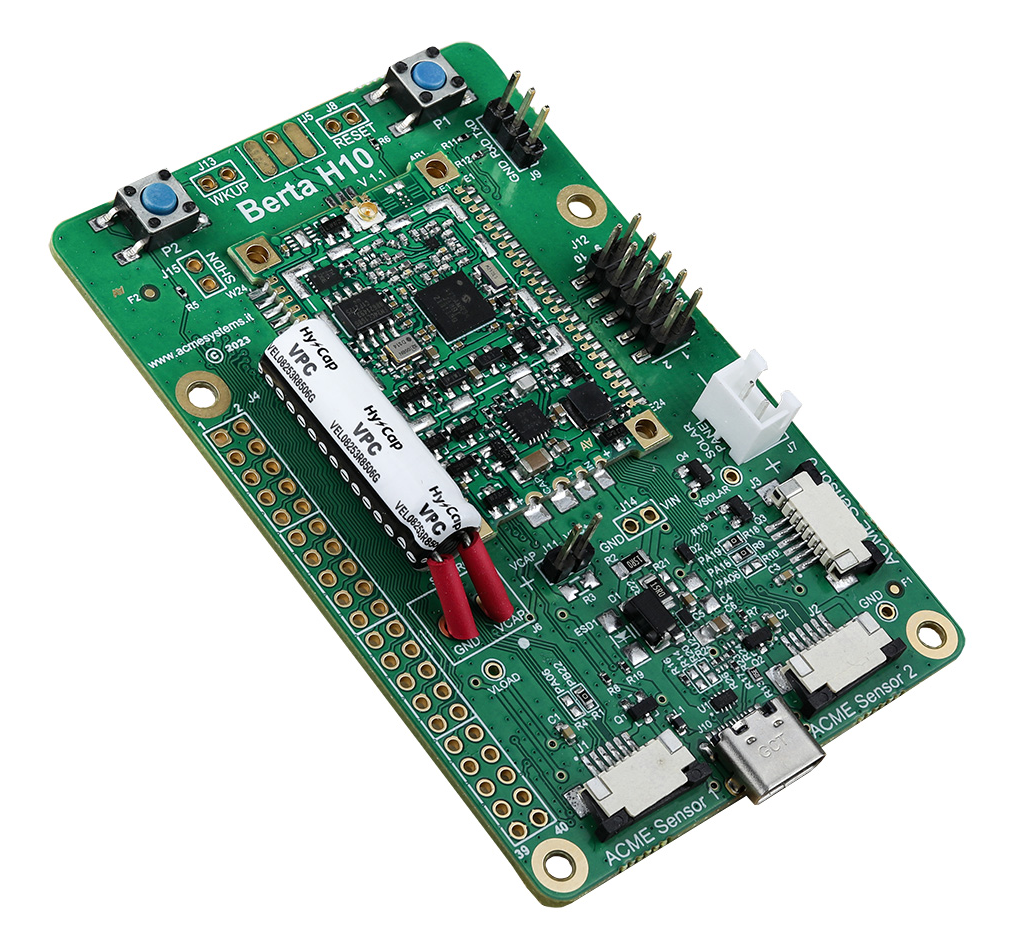 Acme Systems' Berta H10 is a fast prototyping system and evaluation platform for the H10 modules, providing designers with everything required to test the full potential of the device. This board features battery-free operation with energy stored in a 50 Farad VINATech hybrid capacitor with a low discharge rate enabling the Berta H10 platform to operate in standby mode in no-light conditions for up to 100 days. A solar panel is included for testing of the battery-free operation, and a custom-designed ISM antenna maximises the transmission efficiency of the LoRa transceiver. The onboard sensors have been selected for highest performance at lowest power consumption, but the communication ports can be turned off to maximise operating lifetime if these sensors are not required.
If Acme Systems' H10 device looks like a miracle find for your next commercial project, fill out the form below, and ipXchange will facilitate evaluation from this disruptive company.