Bosch's BMP585 can be seen as a new, ruggedised version of their BMP581 24-bit digital pressure sensor. This device is provided in a slightly larger 3.25 × 3.25 x 1.86 mm 9-pad metal-lid LGA package with a gel-filled cavity that provides the highest level of protection against water and other liquid chemicals. This enables easy integration of altitude/height/depth/level measurements – with extreme accuracy to within a few centimetres – in compact devices for harsher industrial applications as well as more standard white goods, navigation, and smart home applications. When used in sports wearables, this device provides end users with the ability to detect single pull-ups or press-ups thanks to the high measurement accuracy.
The main specifications of the BMP585 are as follows, with more information available in this product flyer:
-> Operation range: Pressure: 30 – 125 kPa
-> Absolute pressure accuracy: ±0.5 hPa (max)
-> Relative pressure accuracy: 0.06 hPa
-> Pressure temperature-induced offset: ± 0.5 Pa/K
-> Ultra-low noise: 0.08 PaRMS
-> Ultra-low current consumption: 1.3 µA at 1 Hz in low-power mode
As with many of Bosch's sensor products, a shuttle board is available for evaluating the BMP585. This can be plugged into Bosch's application board (pictured below) for testing device functionality, gaining easy access to the sensor pins, and building prototypes to test your use case.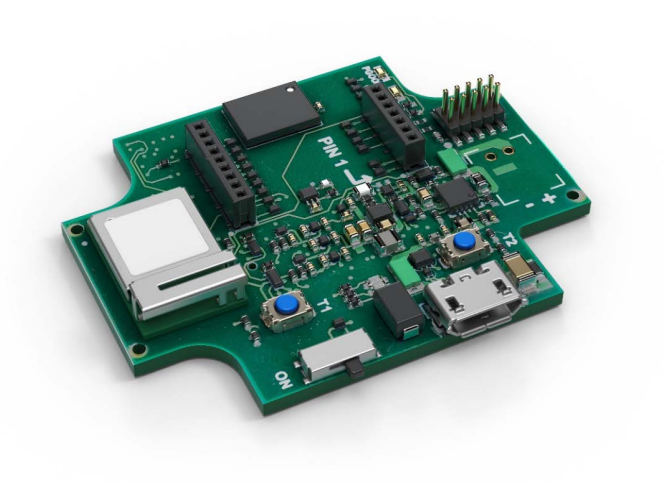 The application board features USB 2.0 and Bluetooth LE 5 connectivity thanks to the Arm Cortex-M4F-based u-blox NINA-B302 device at the heart of the platform. Sensor configuration and data acquisition using this board is made easy thanks to Bosch's PC software, which autonomously detects the sensor in use.
More information on this application board can be found in this product flyer.
If you like what you see and have a commercial application where you would like to evaluate the BMP585 device, use the form below to apply for a sample and enter consultation with Bosch. You can also use this form to apply to evaluate the non-ruggedised BMP581 pressure sensor, which has a smaller 2 × 2 x 0.8 mm package. This is also featured as part of Rutronik's Sensorfusion adaptor board, if you are interested in evaluating multiple sensors at the same time.
(All images sourced from Bosch)