Ambiq's Apollo4 series of System-on-Chips (SoCs) offers designers a lowest-power-consumption, fully featured basis, or coprocessor, for building products in applications that include wearables, medical devices, smart home, security, and predictive maintenance, with neural networking capabilities to support AI/ML-enhanced designs. This board form will focus on the Apollo4 Pus SoC, but for a more connected experience, the Apollo4 Blue Plus offers additional Bluetooth 5.2 LE and Wi-Fi coexistence functionality with a Cortex-M0 co-MCU – at the expense of one master SPI/I2C interface – along with the features outlined below.
The Apollo4 Plus is a 5 x 5 mm purpose-built SoC built around an Arm Cortex-M4F MCU running at up to 192 MHz with FPU, MPU, 4 μA/MHz current draw when executing from MRAM (with cache), and flexible power modes to extend the battery life of your product. This is supported by 2 MB of MRAM and 2.75 MB of SRAM, and the Apollo4 Plus can use additional storage via the SDIO/eMMC interfaces.
The key to Ambiq's low-power operation is their SPOT (Sub-threshold Power Optimized Technology) technology, which takes advantage of the sub-threshold region of the transistor for computing with binary based on the leakage threshold rather than the full 'ON' mode of the transistor. Since power consumption is proportional to voltage squared, Ambiq's SPOT technology enables new levels of low-power operation.
By providing many peripherals within the Apollo4 Plus SoC, with each of these optimised for lowest-power operation, Ambiq's solution saves designers additional interfacing components while simultaneously optimising for overall low-power 'ON' operation. Ambiq also supports interfacing your choice of devices and their own interfacing infrastructure for a hybrid approach, for example if you prefer the analogue peripherals within an external component. The total number of GPIOs is 105 with multiple I/O voltages supported. The operating voltage of the device is 1.71-2.2 V.
A map of the Apollo4 Plus' internal systems is shown in the diagram below: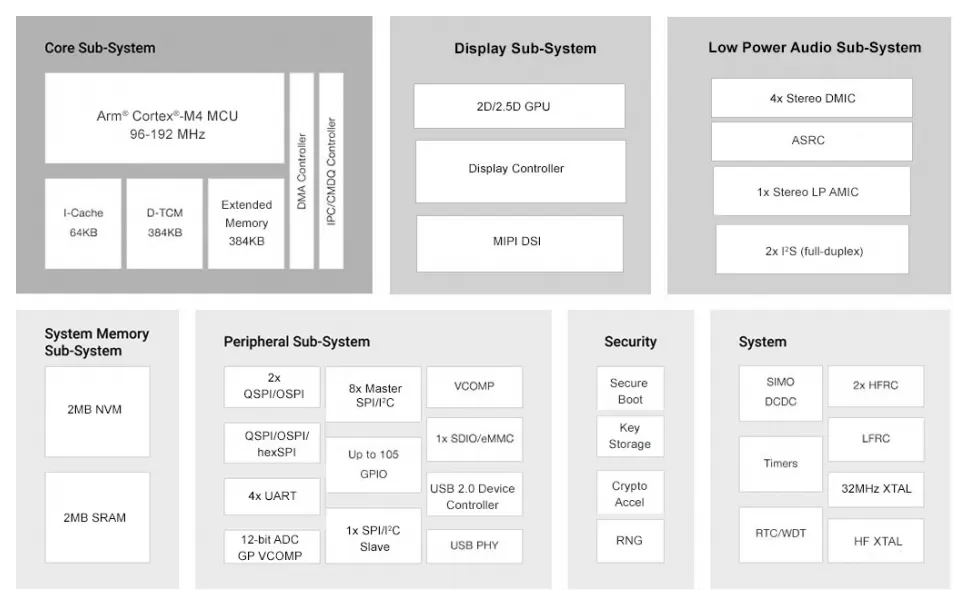 The main processor of the Apollo4 Plus is supplemented with a highly energy-efficient 2/2.5D graphical accelerator that allows the implementation of high-quality vector graphics on a display in your design. This is supported by a MIPI DSI high-speed interface (2 data lanes for up to 500 Mbps) for 32-bit colour and 500 x 500-pixel resolution with alpha blending with up to 4 layers.
In addition to these visual capabilities, the Apollo4 features always-on audio/voice processing with an ultra-low-power analogue microphone and inbuilt noise-cancellation algorithm. When combined with the neural networking capabilities of the SoC, this can be used to create low-power devices with voice control or sound recognition. 2x full-duplex I2S ports with Asynchronous Sample Rate Converters (ASRCs) allow for full audiovisual functionality in your product.
Learn about the full range of interfaces, security features, and RTC sources in this official datasheet.
Ambiq's Apollo4 Plus Display Kit is a great evaluation platform for experiencing the performance of their Apollo4 Plus SoC within a smart-wearable application. It features a display shield with a 1.4″ 454 x 454-pixel MIPI AMOLED display (with a laminated touch sensor) and a 3-axis MEMS accelerometer, in addition to 256 Mb hex-SPI DDR-enabled PSRAM, 64 Mb octal-SPI DDR-enabled flash memory, and a 4 GB e-MMC module.
The base evaluation board features the following connectors and peripherals:
USB-C connector for power/download/debug
USB-C connector for power/data to the Apollo4 Plus
Segger J-Link debugger
Debugger-in port (SWD or ETM)
3x user LEDs
2x user push buttons + reset push button
Power slide switch with LED power indicator
3.5-mm jack for evaluating the low-power analogue audio interface
More information about this evaluation platform can be found in this guide.
If you have a commercial project and would like to evaluate Ambiq's technology to experience the benefits of their ultra-low-power operation, fill in the form below, and ipXchange will get you started on an exciting journey.
(Images sourced from Ambiq)