Conexio's Stratus and Stratus Pro boards are a plug-and-play, compact solution (50.8 mm x 22.86 mm) for quickly developing or adding to IoT products that require GNSS and cellular connectivity for a global marketplace. These featured-packed boards can be used to reduce costs and effort during the R&D process, or they can be directly embedded into end products for faster time to market in applications such as:
Asset tracking
Industrial
Smart metering
Energy infrastructure
Point-of-Sale
Supply-chain management
Healthcare
Wearables
Smart agriculture
The Stratus board is based on Nordic's nRF9160 SiP, which offers an Arm Cortex-M33 application processor supported by 1 MB of flash and 256 kB RAM, as well as a multimode modem that supports GNSS, LTE-M, NB-IoT, and Cat-1 connectivity, offering connectivity to the cloud or acting as a gateway for other devices. The Stratus Pro will be released in Q1 2024 with Nordic's new nRF9161 SiP that will provide access to private 5G mesh networking capabilities (DECT NR+ ready, full specifications pending). Two connectors for external u.fl antennas are provided to support the GNSS (active) and cellular connectivity – ipXchange can provide Taoglas as a partner for these components if required.
As well as out-of-the-box cellular connectivity with 500 MB of data valid for 10 years with speed up to 1 Mbit/s (via a nano SIM, no lock-in or hidden fees), the Stratus board features sensors for temperature, humidity, and pressure, plus a 3-axis accelerometer, all very useful for asset monitoring while in transit. These can be added to via the 26 mixed-signal GPIOs (26 digital, 6 analogue) with SPI, I2C, and UART interfaces. A user-programmable LED and 2 buttons are included for initial testing, and the board can be programmed via USB type-C connector, with an onboard JTAG/SWD connector for debugging.
Stratus also features a connector for a LiPo battery, supported by the onboard battery charging-and-monitoring system, an e-peas AEM10941 energy harvester PMIC for running the board autonomously on solar energy, and – perhaps most disruptive of all the features – an ON/OFF power switch for fully powering the device off during product shipping or long-term storage, without having to remove the battery.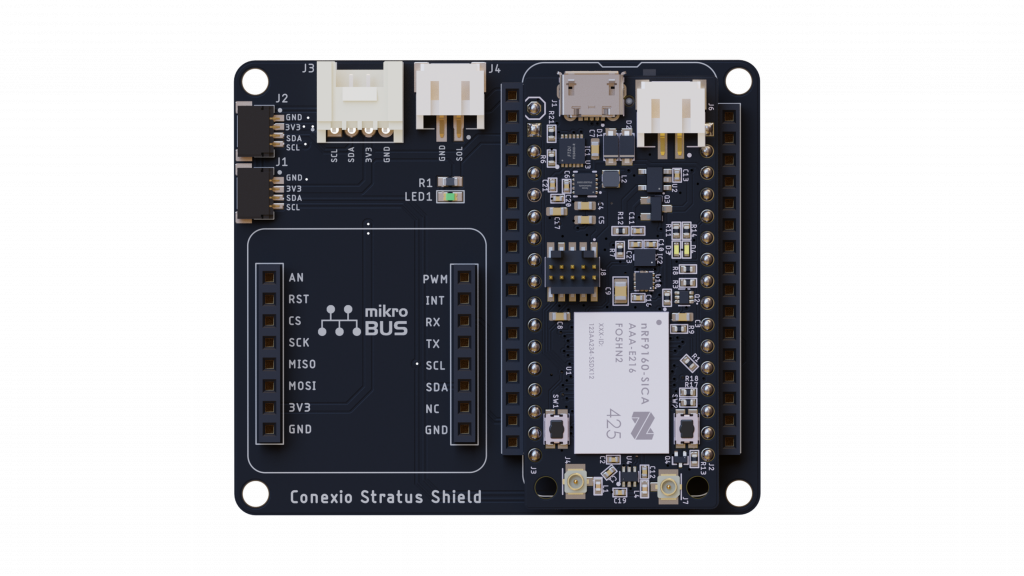 A carrier board is included with the development kit, which provides easy connectivity to popular third-party boards and solar energy harvesters.
To support the smooth running of your IoT application, Stratus runs Zephyr RTOS and supports additional services/functions/platforms such as OpenCPU, Over-The-Air updates, Edge Impulse, Memfault, and Golioth. Datacake can be used for easy data visualization and dashboard creation without the need for programming. While Stratus supports networks using 4G/LTE/Cat-M1/NB-IoT with 200+ carriers in over 180 countries – with automatic carrier switching for the best service possible – Stratus Pro aims at 95% Global coverage using 400+ networks.
Learn more about Conexio's Stratus on the official documents page, which contains pin diagrams, firmware, getting started guides, sample applications, and more to get your project connected in minutes.
If you've got a commercial design where the Stratus board looks like a perfect fit, fill in the form below, and ipXchange will get you connected with Conexio to facilitate evaluation. Thanks to their open-source approach, Conexio also offers help for designing in the "spirit" of Stratus to fit your product requirements when using the device as an R&D development platform.