In ipXchange's quest to get some practical demos running for our video content, our good friends at Taoglas sent us some flexible antennas (and more) to pair with Move-X's Cicerone board.
We were super impressed with the performance of Taoglas' Cloud antenna for GNSS, so here's an e-poster highlighting some of the common features of this and many other flexible antennas from Taoglas, which cover more bands than is worth describing in this post.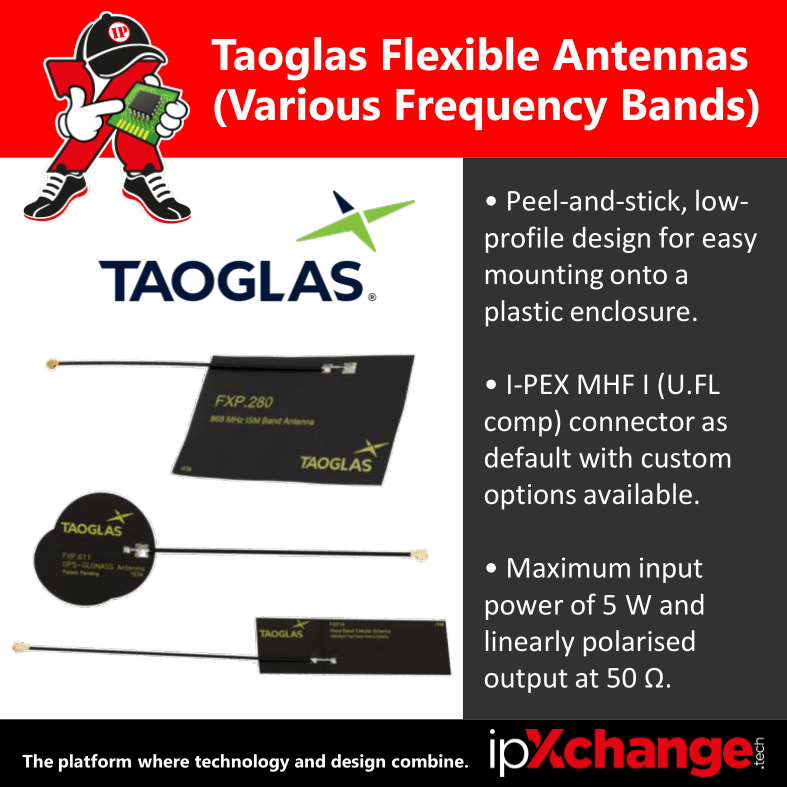 The innovative flexible design makes these antennas a great solution for connected devices across many applications, especially in compact enclosures where the sides may be curved, whether this is just for a nicer product appearance or for more functional reasons.
Also pictured on the poster are the rectangular FXP14 wideband antenna for worldwide 5G/4G cellular bands and the FXP280 for 868 MHz LoRa and Sigfox bands, both included in the care package from Taoglas and illustrating a fraction of the range of flexible antennas available from Taoglas.
That said, we'd like to state that ipXchange didn't pick any of these antennas to try. We simply asked Taoglas what they thought would be best for our application, and after describing what we wanted to achieve, Taoglas delivered.
If it wasn't already obvious from our recent ipXperience interview, Taoglas really know what they are doing when it comes to antenna design and integration, so check out some of their other devices on the Taoglas company board page.
If you've got a commercial design and want to partner with them to evaluate their antennas, fill out an application form, and we'll put you in touch. Whether or not the product you're looking for is on our site, rest assured, we're sure Taoglas will point you to the best solution for your design.
Keep designing!