Automotive memory again? Yes, but this time it's Everspin's SPI MRAM products that are the talk of ipXchange. And with good reason!
The key benefits of Everspin's MR25H40 devices are illustrated on another of our ePosters; pictured is an Arduino-form-factor shield with the MRAM chip on board. When interfaced with an MCU development board that uses a UNO-type pin layout, this functions as an evaluation platform for the MR25H40, as well as a few other memory chips from Everspin, all via just 6 I/O pins.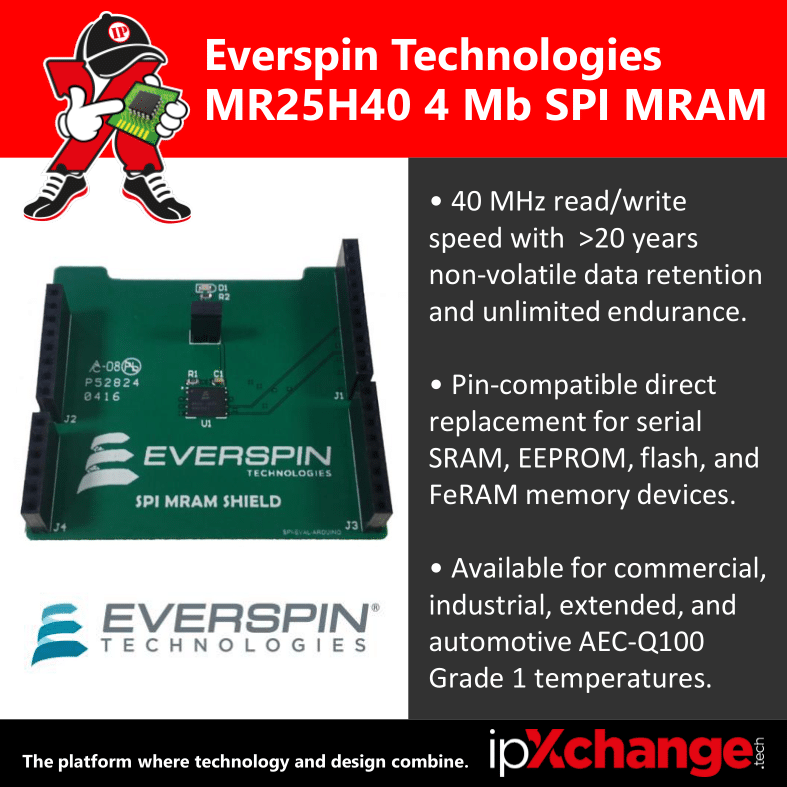 Perhaps the most notable difference with Everspin's solution is that it can both read and write randomly within the memory, unlike many serial memory devices, and there is also no delay between writes, resulting in truly as-fast-as-specification operation. Better yet, the device has a long service lifetime and is well protected against power interruption, so you can trust the integrity of your RAM even in the most challenging deployments. This is additionally supported by the AEC-Q100 Grade 1 -40°C to 125°C operating temperature range option.
With those drop-in replacement capabilities, Everspin's 4 Mb SPI MRAM is surely worth a try, so learn more about this disruptive memory device on our board page, where you can also apply to test this technology for use in a commercial design.
Keep designing!